PFAFF 3827
Integrated sewing unit for closing side- and shoulder seams and photocell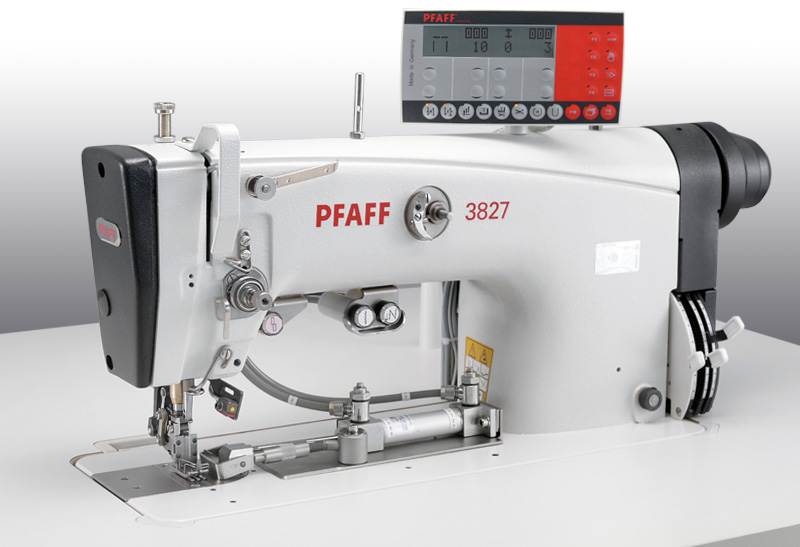 Quality standards
The shoulder and side seams should have fullness in certain seam areas (rearward shoulder seam and the upper part of the side seam) and should be sewn even at other parts. To meet these requirements the PFAFF 3827 provides a fully developed workplace which precisely fits the required working processes and quality demands. Furthermore it serves as an important manufacturing resource which make little demands on the user and requiring little training.

Features
The PFAFF 3822 is equipped with the ultra high-speed sewing unit PFAFF 487 with differential feed
The floating foot supports the even distribution of fullness and guarantees smooth seams
Edge guide with automatic seam width adjustment when changing from the side to the shoulder seams (on sub-class -4/34)
Semi-automatic operating cycles (adjustment of the edge guide, seam end using sensor, mirror-image seams), without complicated seam programming
Absolutely identical shoulder seams, due to automatic mirror image seams
In case of need it can also be used for closing seams
Separately adjustable pressure on the presser foot and on the vibrating presser foot
Easy handling and short training times due to part automation
Fullnesses can be defined precisely and recalled
Absolute identical shoulder seams due to seam reflection
Also applicable to "usual seams"
Applications
Closed side seams and shoulder seams

Specifications

Needle system: 134 KK
Needle size:  80-100 Nm
Max. sewing speeds: 4.800 s.p.m
Max. stitch length: 4,5 mm
Top feed stroke: 2,0 mm
Stitch type: 301 (Lockstitch)
Fabric clearance: max. 7,0 mm
Clear workspace: 260 x 130 mm
Connection voltage: single-phase a.c. 230 V, 50/60 Hz